Events


http://birminghamartsjournal.com

THE BIRMINGHAM ARTS JOURNAL!

Attend the next FREE reading and reception
in honor of the latest great issue of
Birmingham Arts Journal
APRIL 27, 2017, 6:30pm
at the Wells Fargo Tower
Downtown Birmingham, Alabama 35203

WATCH FOR MORE INFO


Call (205) 326-4460 for details



Who's in the current issue? Eileen Malone, April Muschara Harris, Darren Demaree, Seth Tanner, Erica Marisa Sandifer, Cynthia Cox, Mark Jackett, Joy Godsey, Liz Reed, Jim Ferguson, Roger Barbee, M-A Auclair, Michael Fontana, Carolyn M. Rhodes, Sonia Summers, Taylor Shepeard, Jim Reed, Sanaz Davoodzadehfar, John Grey, Gail Gehiken, Jeanette Willert, S. J. MacLean, Craig Ford, Jeff Faulk, Kevin Whitman, Lisa Oestreich, Umberto Eco, Will Schwalbe, Ayelet Waldman, Stephen Chbosky, Mark Vonnegut...and more.


Pick up your copies of the latest
Birmingham Arts Journal at
REED BOOKS/THE MUSEUM OF FOND MEMORIES
and
THE BIRMINGHAM MUSEUM OF ART Gift Shop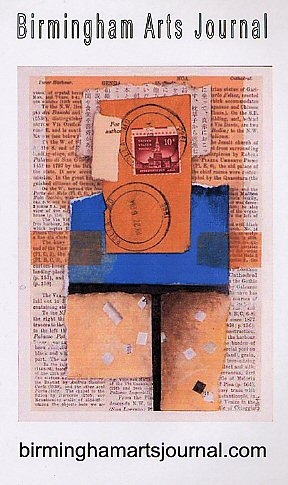 TIME TO MARK YOUR 2017 CALENDAR
FOR THE 12TH ANNIVERSARY MY FAVORITE POEM
Friday, September 22, 2017
Alabama School of Fine Arts
7pm
FREE!